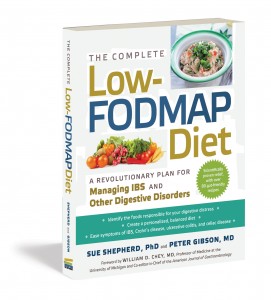 To celebrate the launch of our latest book, The Complete Low-FODMAP Diet by Sue Shepherd and Peter Gibson, we decided to try some of its included recipes. We made Cream of Potato and Parsnip Soup; Quinoa and Vegetable Salad; Sweet Potato, Blue Cheese, and Spinach Frittata; and Roasted Vegetable Salad. Dessert featured Rhubarb and Raspberry Crumble, Sweet Almond Cake, and Chocolate Chip Cookies.
What makes these recipes different from the ones from your favorite cookbook or food blog? The answer is in the term FODMAP, a nifty acronym that describes difficult to digest carbohydrates found in many common foods. For those with irritable bowel syndrome, foods high in FODMAPs (such as wheat or beans) can bring on digestive woes and worsen already existing symptoms. For them, Sue Shepherd and Peter Gibson outline an effective, personalizable, scientifically supported diet. Plus, as all of us at The Experiment can testify, their low-FODMAP recipes make for a scrumptious and satisfying meal.
All the dishes packed a flavorful punch, even without garlic and onion (which are foods to avoid under the low-FODMAP diet). Topped with a sprinkle of fresh chives, the thick parsnip soup was a hearty complement to the freshness of the quinoa salad. With tangy blue cheese and savory chunks of sweet potato, the frittata was another welcome addition to the table. Delicate slices of sweet almond cake graced our dessert plates along with helpings of rhubarb and raspberry crumble, which showcased both the syrupy sweetness and pleasant tartness of these summer fruits.
As if these rich flavors weren't enough, these recipes are also a cinch to prepare (in fact, two members of the office threw together the frittata on a break in our office kitchen). Ingredients can be easily adjusted to feed a crowd, and the instructions have all you need to host a luncheon or make a quick dinner. Whether you are a salad aficionado or a pasta lover, the variety of dishes lay the foundation of a menu plan that never gets boring—great news for anyone hoping to feel their gastrointestinal best.
The Complete Low-FODMAP Diet publishes next Tuesday, August 13.