The Foundations of Mindfulness
How to Cultivate Tranquility, Attention, and Good Judgment
Modern Instruction Based on the Buddha's Original Teachings
Discover the wisdom of the Buddha's original teachings on mindfulness
Usually translated as The Foundations of Mindfulness, the Satipatthana Sutta—taken from the 2,500-year-old teachings of the Buddha himself—is the original "DIY manual" on how to meditate and be mindful. Just a few pages long, with 13 recommended practices, it provides the authority for the worldwide practice of mindfulness. However, this influential text has been neglected of late—not least because the common translation, in Victorian English, is virtually indecipherable. So, many modern mindfulness students—focused instead on the Zen practice of "just sitting"—risk missing the benefits of the Buddha's more sophisticated approach.
Eric Harrison first translated the Satipatthana Sutta in 1975 and made it the basis of his decades-long teaching career. Now, with a new translation and commentary informed by a lifelong consideration of the Buddha's original teachings, Harrison makes mindfulness more accessible than ever—to psychologists, teachers, and everyone with a serious interest in the practice looking for deeply informed, sparklingly clear insights and guidance.
Publishers Weekly
"A deeply engaging book which both Buddhist meditators and secular mindfulness practitioners around the globe will find useful. To help clarify mindfulness, Eric Harrison explores the relationships, overlaps, and divergences between western Buddhist meditation and secular mindfulness. Whatever your particular views and preferences on the subject,
The Foundations of Mindfulness
will help you locate them. I also enjoyed Eric's translation of the
Satipatthana Sutta
for its accessibility."
—
Sharon Salzberg
, author of
Lovingkindness
and
Real Happiness
"
The Satipatthana Sutta
is one of the Buddha's foundational teachings on mindfulness. This commentary by a staunchly non-Buddhist mindfulness teacher makes for a stimulating and, at times, provocative read."
—
David Michie
, author of The Dalai Lama's Cat series and
Mindfulness is Better Than Chocolate
Available in a 6-copy counter display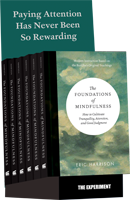 978-161519-291-5
$101.70 US
To order, please contact our distributor,
Workman Publishing
, and reference product number 779291.