How to Read Water
Clues and Patterns from Puddles to the Sea
A New York Times BestsellerRead the sea like a Viking and interpret ponds like a Polynesian—with a little help from the "natural navigator"!
In his eye-opening books The Lost Art of Reading Nature's Signs and The Natural Navigator, Tristan Gooley helped readers reconnect with nature by finding direction from the trees, stars, clouds, and more. Now, he turns his attention to our most abundant—yet perhaps least understood—resource.
Distilled from his far-flung adventures—sailing solo across the Atlantic, navigating with Omani tribespeople, canoeing in Borneo, and walking in his own backyard—Gooley shares hundreds of techniques in How to Read Water. Readers will:
Find north using puddles
Forecast the weather from waves
Decode the colors of ponds
Spot dangerous water in the dark
Decipher wave patterns on beaches, and more!
★ A Forbes Top 10 Conservation and Environment Book of 2016
"Mr. Gooley misses little in his paean to Earth's most abundant resource. . . . He starts small, at a mud puddle watching ripples fan out from a pebble drop, and ends big, in the frigid reaches of the Arctic Sea. Along the way he asks and answers many questions. If you like water, as I do, you will learn a lot."—
The Wall Street Journal
"[Gooley's] detailed observations are breathtaking as he patiently explains how to see. Jam-packed with information, birders, naturalists, hikers, hunters, and anyone interested in the natural world will find much of use."—
Forbes
"Gooley is your man. . . . With unflappable practicality, he shares simple ways to understand your surroundings, whether you're beside a stream or on the open sea at night, without instruments."—
Discover
"Even if you don't live near a lake, river or ocean, this fascinating book teaches you how to read water patterns in rain puddles and any other place water gathers."—
San Francisco Chronicle
"With the help of this book, and with careful attention and observation, anyone can learn how to interpret the messages water offers to aid in everything from navigation to weather forecasting. A ­riveting and highly accessible book that will appeal to water enthusiasts and nature lovers of all kinds."—
Library Journal
"Avid and budding outdoorspeople will appreciate Gooley's breadth of knowledge and accessible approach."—
Publishers Weekly
"This book is a treasure is in its un-ironic display of joyful curiosity, and its serious pursuit of this curiosity to knowledge that is a pleasure in itself."—
Washington Free Beacon
Trailer
Books by Tristan Gooley
5-copy display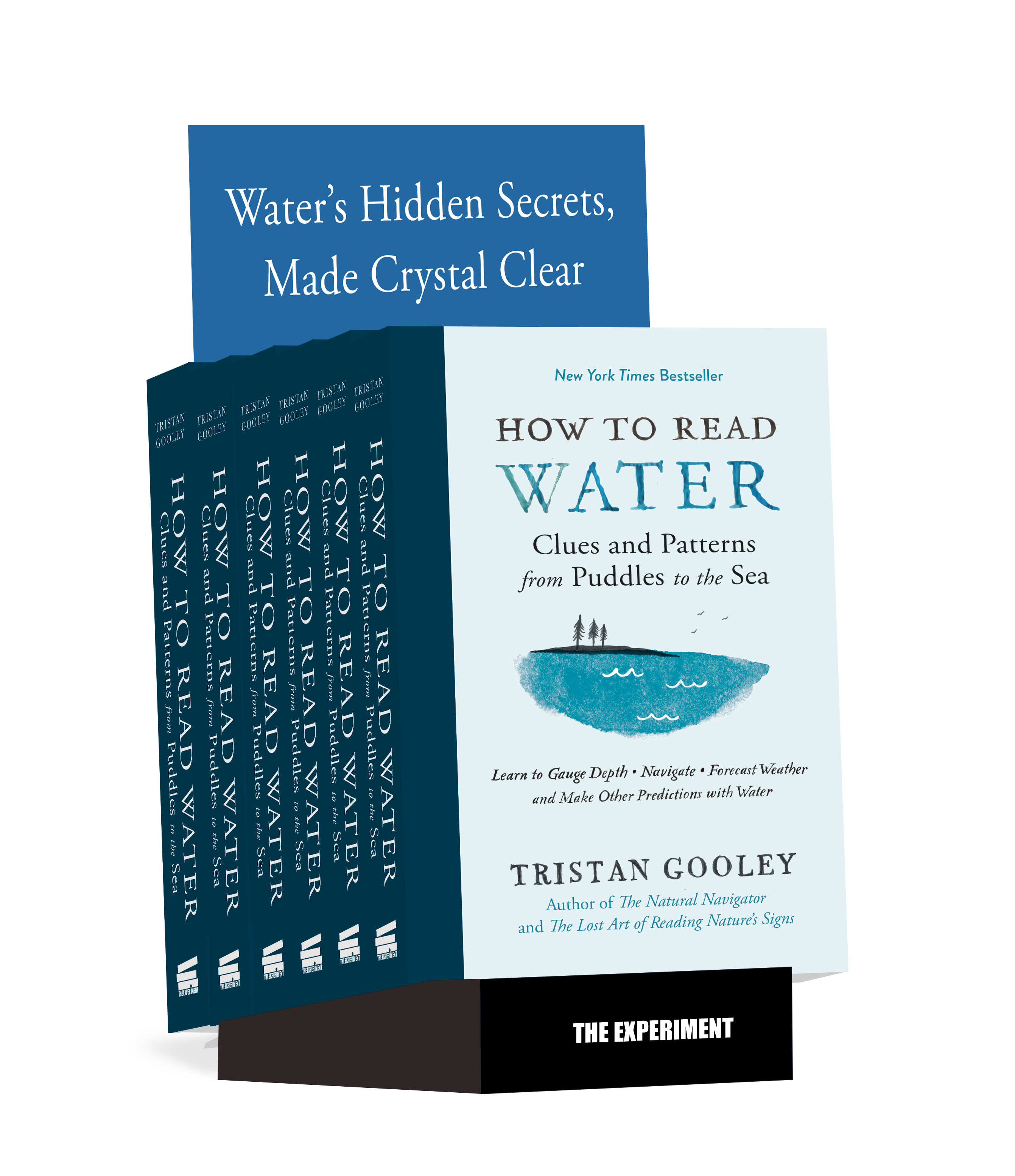 978-1-61519-372-1
$99.75
To order, please contact our distributor,
Workman Publishing
, and reference product number 779372.