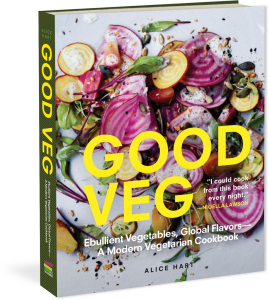 I like to think I'm a good cook in that I absolutely love to eat. I stand by that I will try (almost) any dish once, so, working with cookbooks is like being a kid in a candy shop for me – there are many instances of gazing lovingly at spreads and photos before books go to print, salivating as I munch on a sad soggy salad at my desk.
I like following recipes. It's like a game to me, the closest I can get to wizadry. Cooking comes relatively easy to me: This and this make that, abracadaba, put it in the oven or simmer it up with some olive oil and salt and pepper and it should be alright. Cooking is one thing, barring a fire or way too much of one ingredient; you can usually muster something up that is at least somewhat edible. Baking can be hit or miss on the other hand – your mother's birthday cake that you're baking an hour before you see her could very well end up in the trash if you forget a smidgeon of baking soda or salt. With baking, you can mess something up pretty darn easily. Just last week, I tried to make gluten free muffins, and the recipe called for lemon zest. I accidentally tripled the amount it called for, and they ended up in the trash. No one likes a bitter muffin, let me tell you.
A few weekends ago, I decided to try a recipe from renowned UK chef Alice Hart's gorgeous forthcoming book of recipes, Good Veg: Ebullient Vegetables, Global Flavors – A Modern Vegetarian Cookbook. Good Veg is a very special book. First of all, it's absolutely gorgeous. The photos are bright and bold and the vegetables that Alice has cooked with such love and craft are full of texture, seem to be bursting with flavor, and look almost too stunning to eat. The book is an elegant, modern revamping of traditional vegetarian cooking for how we eat today: clean, but never deprived—thoughtful, but not overly complex. Delicious and healthy vegetarian recipes are intrinsic to Alice's cooking (not that the odd indulgence doesn't feature), and she cooks with colorful and natural ingredients with taste and enjoyment in mind. In Good Veg, Alice shares 200 recipes alongside stunning photographs that surprise and thrill through contrasts: hot and cool, crisp and soft, spicy yet herbal, organized into the following chapters:
Morning • Grazing • Quick • Thrifty • Gatherings • Grains • Raw-ish • Afters • Pantry
One of my personal favorite flavor combinations is coconut-berry. Coconut is such a treat: rich, light, unexpected, tangy in an unexpected way, and is perfectly complimented by strawberry or raspberry. So, when I saw that Alice Hart had a recipe for Coconut-Raspberry Cakes (gluten-free to boot) in the 'Afters' section, I knew I wanted to try them out.
COCONUT-RASPBERRY CAKES
Alice writes, "I found this buttery gluten-free sponge for coconut lovers easier to make as individual cakes. They often bake with craggy, at tops, so turning them upside down, then coating the domed sponge with a quick coconut frosting and a hat of toasted coconut flakes solves any aesthetic failings. Substitute firm coconut oil for the dairy butter, if you wish."
The recipe makes 8 servings (I made around 15 since my muffin tins were shallow), and calls for:
• One 13.5-ounce (400 ml) can coconut milk
• ½ cup (60 g) coconut flour
• 1 ½ sticks (190 g) unsalted butter, soft, plus more for the pan
• ⅔ cup (125 g) coconut sugar or raw cane sugar
• 4 eggs
• 3 tablespoons desiccated coconut
• 2 teaspoons vanilla extract
• Finely grated zest of 1 unwaxed lemon
• Large pinch of fine salt
• ⅓ cups (175 g) almond meal
• 2 teaspoons gluten-free baking powder
• 5.5 ounces (about ½ a dry pint/150 g) raspberries
• 3 tablespoons unrefined powdered sugar
• ⅓ cup (25 g) toasted coconut flakes
Instructions:
1. At least 2 hours before you want to make the cakes, chill the coconut milk can thoroughly, being careful not to disturb it too much. Open carefully and spoon out the set, thick coconut cream on top, leaving the thin milk behind. Chill the cream and measure out ⅔ cup (150 ml) of the milk (you won't need the rest here; pour it into a bowl and save it to add to a curry). Combine the ⅔ cup (150 ml) coconut milk with the coconut our and set aside for 5 minutes; the flour will swell right up to form a spongy paste.
2. Preheat the oven to 350°F (180°C). Butter 8 holes of a large, 12-hole muffin pan. (If your muffin pan has slightly smaller holes, this recipe will make 10 or even 12 cakes.)
3. Beat the butter and sugar together until soft and fluffy. Add the eggs individually, as you continue to beat. Beat in the desiccated coconut, vanilla, lemon zest and salt. Stir in the coconut-milk-and- our mixture, almond meal and baking powder to make a thick batter. Fold in the raspberries and divide between the muffin holes. Bake for 25 minutes or so, until risen, firm and golden brown. Let cool in the pan for 10 minutes before turning out and cooling on a wire rack.
4. Whisk the solidified coconut cream in a mixing bowl with the powdered sugar until light and fluffy. Put the toasted coconut flakes in a shallow bowl. Smoosh a generous dab of the coconut cream over the curved base of each cake (which will now become the top) and dip straight into the coconut flakes to coat.
They didn't turn out the prettiest, but they tasted wonderfully: tangy, rich, sweet – but not too sweet. And very coconut-y and moist (sorry.) I brought them in to the office and to an Oscar's viewing party, and they were a hit. I couldn't eat more than one since the butter made them incredibly rich – next time, I'd love to instead try these with coconut oil, as Alice writes in her introduction.
Bon appétit!
– Chloe