Second Suns tells the true story of the people and history behind the Himalayan Cataract Project
Second Suns
by David Oliver Relin tells the story of the invention of a remarkable surgery that cures blindness and of those working to make it available to the world's neediest through the charitable work of the
Himalayan Cataract Project
(HCP), a nonprofit that was just named one of eight semi-finalists in
100&Change
, a global competition for a single $100 million grant from the John D. and Catherine T. MacArthur Foundation.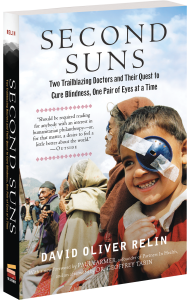 Second Suns
is the story of two doctors, Dr. Geoffrey Tabin and Dr. Sanduk Ruit, who came together to develop a pioneering, 10-minute surgery to treat cataracts—an entirely curable disease and a leading cause of avoidable blindness, afflicting more than 18 million people worldwide—for less than $25 per person. The Experiment has published this remarkable story in paperback for the first time, and, moreover, is donating a portion of the proceeds from every book sold to HCP.
"Reading Second Suns, it's impossible not to feel that the work of Drs. Ruit and Tabin is among the most important work being done by anyone, anywhere on our planet," says Matthew Lore, publisher of The Experiment. "Seeing that this new edition gets into the hands of readers everywhere is one way we as the publisher are helping to support the HCP's far-reaching initiatives to eradicate preventable blindness. But we wanted to do more, hence our deciding to donate a portion of the proceeds from the sale of each copy. We are thrilled that The MacArthur Foundation has also recognized the importance of HCP's work by naming them as a semifinalist for this historic grant."
The Himalayan Cataract Project has worked since 1995 to develop sustainable solutions for needless blindness throughout Asia and Africa. The organization first developed its systems in Nepal, where the prevalence of blindness has fallen by two-thirds since the early 1990s.
"The 100&Change grant could enable the Himalayan Cataract Project to reach the tipping point to eliminate needless blindness on a global scale," says Dr. Geoffrey Tabin, the Co-Founder of the Himalayan Cataract Project, and protagonist in Second Suns.
In June 2016, the MacArthur Foundation launched the 100&Change competition, offering a $100 million grant to fund a single project that makes measurable progress towards solving a significant global problem. The winner will be announced later this year.
Second Suns: Two Trailblazing Doctors and Their Quest to Cure Blindness, One Pair of Eyes at a Time is available for sale at all retailers.
###