Last year, coloring enthusiasts and math enthusiasts alike discovered the hidden beauty of math with Patterns of the Universe: A Coloring Adventure in Math and Beauty by Alex Bellos and Edmund Harriss. The book showed colorers that math is at the heart of many natural wonders and has an abstract beauty all its own—in the silhouette of a snowflake, the spiral seeds of a sunflower, and the symmetry of the Sri Yantra mandala.


Science said: "Illustrations designed to introduce doodlers to a range of challenging mathematical principles."
Science Friday said: "Flipping through this new coloring book is a mesmerizing journey. From perfect hexagonal tilings to luscious sine waves to nautilus shell spirals, every line illustration by mathematical artist Edmund Harriss (and a handful of others) brings a hypnotic sense of harmony."
Wired said: "Enough coloring inside the lines—it's time to start coloring inside the cosines."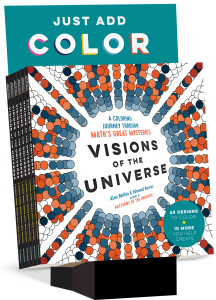 Now, Bellos and Harriss are back with more math-inspired art, plus a new twist!, in a new coloring book: Visions of the Universe: A Coloring Journey Through Math's Great Mysteries published at the end of 2016. This time around, the 58 exquisite patterns are inspired by great discoveries in math:
Intricate geometric designs like those that grace the mosques of Mecca
Felix Klein's astounding diagram—drawn in 1897—of light reflecting between five mirrored spheres
A mind-bending puzzle so beautiful it once hung outside a Japanese temple, and more!
Plus, in the Creating chapter, you'll help complete 10 additional images by following simple steps that give spectacular results. No math knowledge is required: Anyone can be an artist in Numberland!
GIVEAWAY ALERT!
In honor of the book's recent publication, we are giving away two sets of Visions of the Universe and Patterns of the Universe! Simple visit our Facebook page and share the "Giveaway" post for your chance to win!
The giveaway will run from Monday, January 23 through Friday, January 27. Winners will be notified on Monday, January 30.

###
P.S….Be on the lookout for Alex Bellos' next book,
Can You Solve My Problems?
, out in March 2017 and available for preorder now!