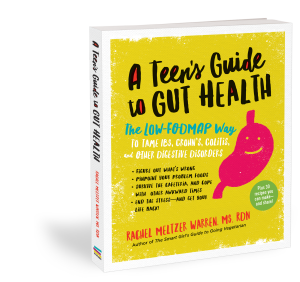 Happy Pub Day to A Teen's Guide to Gut Health: The Low-FODMAP Way to Tame IBS, Crohn's, Colitis, and Other Digestive Disorders! Here is an accessible guide to the science-backed low-FODMAP diet that speaks to the unique concerns of teens managing digestive distress.
Fermentable Oligosaccharides Disaccharides Polyos Monosaccharides are those pesky, difficulty-to-digest carbs known collectively as FODMAPs. (Click the image to the right to enlarge an infographic explaining exactly what they are!) Relatively recently, we have realized that what many thought was gluten-sensitivity is actually FODMAP-sensitivity. Since then, a low-FODMAP diet has quickly becoming a first-line defense for IBS and other digestive disorders.


Digestive disorders including IBS, Crohn's disease, and colitis can be especially difficult for teens. Finding the right diagnosis is tough and symptoms can be embarrassing and awkward to talk about. Teens with poor gut health can struggle in school due to repeat absences, and often experience anxiety and depression as well. With A Teen's Guide to Gut Health by registered dietician Rachel Meltzer Warren, teens have a resource to help them navigate their digestive trouble.
Meltzer Warren's book is written in a clear and fun manner to help demystify FODMAPs for teens. She outlines a two-part elimination diet to help them identify exactly which foods cause them discomfort, because not all FODMAP-rich foods affect everyone the same way. There are also survival guides to help teens deal with tough food situations: no more hiding from the cafeteria, dodging dinner invitations, or staring at restaurant menus with fear (she provides a guide to many cuisines, from Chinese to Italian!). Plus, there are 30 low-FODMAP recipes easy enough for teens to make for themselves, and an entire chapter devoted to answering questions from real teens—no matter how embarrassing!
In honor of the book's publication, we are sharing one of the delicious, teen-friendly, and of course, low-FODMAP, recipes!
###
Mini Polenta Pizzas
Serves 1 // Prep Time: 5 Minutes // Cook Time: 28 Minutes
These mini pizzas are easy to make; they also taste great and are fun to eat—perfect for a night when you're on your own for dinner or the rest of your family is eating something that's off limits. Ready-to-eat polenta is a versatile ingredient that works well crisped up to use as a pint size pizza crust. Serve these little pizzas with a side salad to balance out your plate.
Half 18-ounce (255 g) log prepared polenta
Nonstick cooking spray
1⁄2 cup (120 ml) low-FODMAP marinara sauce or canned chopped tomatoes
1⁄2 cup shredded mozzarella cheese
Optional toppings: 1⁄4 cup (30 g) cubed chicken breast, 1⁄4 cup (30 g) sliced black or green olives, 1⁄4 cup (35 g) chopped pineapple, 1⁄4 cup (55 g) sliced canned mushrooms (see note), 1⁄4 cup (20 g) chopped eggplant, sautéed.
Note: Fresh mushrooms are high FODMAP, but canned ones are OK.
1) Preheat the oven to 375°F (190°C). Spray a baking sheet with cooking spray.
2) Slice the polenta into 1⁄2-inch (1.25 cm) rounds and place on the prepared baking sheet.
3) Bake for 25 minutes, flipping once halfway through, or until lightly browned on both sides. Carefully remove the baking sheet from the oven.
4) Preheat the broiler.
5) Spoon a bit of sauce and a sprinkle of cheese on each slice of polenta. Add optional toppings if using.
6) Broil the pizzas 1 to 2 minutes, until the cheese has melted.
Per serving (without additional toppings): 240 calories, 15.5 g fat (6 g saturated fat), 12.5 g carbs, 687 mg sodium, 1.5 g fiber, 12 g protein
###
Rachel Meltzer Warren, MS, RDN is a writer and nutrition counselor working with teens and adults in New York and nearby. She is the author of The Smart Girl's Guide to Going Vegetarian and serves as a consultant for education programs like the Harlem Children's Zone, where she develops and teaches classes on nutrition and wellness. She has contributed to Women's Health, Shape, Vegetarian Times, Good Housekeeping, and more.