Thanksgiving is a time to gather friends and family together for good company and great food. Adding new dishes to your table can make the meal extra special, especially when there is a mixed table of dietary preferences.
So to help with your meal prep we've found some delicious vegan dishes to add to your holiday menu. These recipes will be sure to have any and all guests asking for seconds!
Try this take on the traditional green bean casserole (with homemade cream of mushroom soup!) with Kristy Turner's recipe from her newest book, But My Family Would Never Eat Vegan! Or if you want something hearty, fill up with Rich Landau and Kate Jacoby's Thanksgiving Root Stew, found in Vedge . And not only are Melissa King's Cinnamon-Spiced Baked Pears from Easy. Whole. Vegan. tasty, they make your home smell amazing!
***
Green Bean Casserole with Crispy Onion Topping
From But My Family Would Never Eat Vegan! by Kristy Turner
Prep and cook time: 65 minutes
If your family is anything like mine, green bean casserole consists of three (highly processed) ingredients: a can of green beans, a can of cream of mushroom soup, and a can of fried onions. Though using only three cans to make the casserole makes grocery shopping pretty easy, it doesn't do much for the flavor of the casserole or the health of your family members. By using simple homemade Cream of Mushroom Soup, fresh green beans, and quickly prepared, crispy, bread-crumb-coated onions for the topping, your family will not, and I repeat, will not miss the old chemical casserole.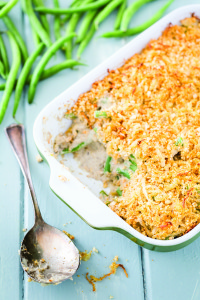 Serves 6 to 8
Olive oil spray
1 pound fresh green beans, trimmed
Cream of Mushroom Soup (see below)
1 tablespoon vegan butter (soy-free if necessary)
1 sweet onion, quartered and thinly sliced
¾ cup vegan panko bread crumbs (gluten-free if necessary)
½ teaspoon garlic powder
½ teaspoon salt
3 tablespoons nutritional yeast, optional
1. Preheat the oven to 400°F. Lightly spray a 9 x 13-inch (23 x 33 cm) baking dish with olive oil.
2. Place the green beans in a steamer basket over a pot of boiling water and cover. Steam for 5 minutes, then transfer to a large bowl. Pour the soup into the bowl and stir to combine. Set aside.
3. While the green beans are steaming, melt half of the butter in a large frying pan over medium heat. Add the onion and cook, stirring occasionally, until soft and golden, 5 to 7 minutes. Transfer the onions to a medium bowl. (Don't bother to clean the pan.) Melt the remaining butter in the frying pan and add the bread crumbs. Cook, stirring frequently, until the crumbs are crispy. Stir in the garlic powder and salt and remove from the heat. Add to the onions along with the nutritional yeast (if using). Stir to combine.
4. Pour the green bean mixture into the prepared baking dish. Spread the onion mixture over the top. Bake for 25 minutes, or until the topping is crispy and the casserole is bubbly. Serve immediately. Leftovers will keep in an airtight container in the fridge for 3 to 4 days.
Tip: To prepare this in advance, bake the casserole without the topping for 25 minutes. Refrigerate until ready to serve. Prepare the onion topping, spread it on the top, and bake the casserole at 400°F for 15 to 20 minutes, until heated through.
Cream of Mushroom Soup
From But My Family Would Never Eat Vegan! by Kristy Turner
Prep and cook time: 58 minutes
Makes 3 ¼ cups (840 ml)
½ large (1½- to 2-pound) head cauliflower, broken into florets
2 teaspoons vegan butter (soy-free if necessary)
8 ounces cremini mushrooms (or button mushrooms), sliced
2 teaspoons liquid aminos (or gluten-free tamari; use coconut aminos to be soy-free)
½ cup raw cashews (if you don't have a high-speed blender, soak in warm water for at least 30 minutes and drain; discard the water)
1 cup unsweetened nondairy milk (soy-free if necessary)
2 tablespoons nutritional yeast
1 tablespoon arrowroot powder (or cornstarch)
1 teaspoon dried thyme
½ teaspoon garlic powder
½ teaspoon salt
1. Place the cauliflower in a steamer basket over a pot of boiling water and cover. Steam the cauliflower until tender, 7 to 10 minutes.
2.Meanwhile, melt the butter in a large frying pan over medium heat. Add the mushrooms and liquid aminos and cook until tender, about 8 minutes. Remove from the heat.
3.Combine the steamed cauliflower, cashews, milk, nutritional yeast, arrowroot powder, thyme, garlic powder, and salt in a blender and blend until smooth. Add the mushrooms (and if desired, their cooking liquid) and pulse until they're in small bits incorporated throughout. You can use the soup right away in a recipe.
4. If you are not using it right away, let it cool completely before transferring to an airtight container. The soup will keep for 5 to 7 days in the fridge or 2 months in the freezer. If you freeze it, let it thaw completely before using.
 
Thanksgiving Root Stew
From Vedge by Rich Landau and Kate Jacoby
Prep and cook time: 45 minutes
It may seem ironic that a vegetarian would look forward to Thanksgiving. A holiday that has become less about the message of thanks and more about the turkey. And the rest of the meal? Lots of brown and gray flour-thickened, heavy foods that put you to sleep. Let's re-think this food as a celebration of vegetables filling the table at the end of the harvest. The sage and rosemary, the sweet roots, the mushrooms, and the squash are a feast of flavors and textures. This root stew is packed with color, infused with aromatics, and brought together by a rich-tasting broth. It will taste like Thanksgiving should . . . and please remember to give thanks.
Serves 4 to 6
1 1⁄2 cups peeled, diced carrots
1 1⁄2 cups peeled, diced celery root
1 cup peeled, diced parsnips
1 cup peeled, diced turnips or rutabagas
3 tablespoons olive oil
2 teaspoons salt
2 teaspoons freshly ground black pepper
1⁄4 teaspoon allspice
Pinch of ground nutmeg
1⁄2 cup diced onions
2 teaspoons ground sage
1⁄2 cup dry white wine
8 cups Vegetable Stock
2 teaspoons finely chopped fresh rosemary
1. Preheat the oven to 400°F.
2. Toss the carrots, celery root, parsnips, and turnips in a large bowl with 2 tablespoons of the oil, 1 teaspoon of the salt, 1 teaspoon of the pepper, the allspice, and nutmeg. Transfer the vegetables to a sheet pan in a single layer and roast until they are fork-tender, 12 to 15 minutes.
3.Meanwhile, heat the remaining 1 tablespoon oil in a large stock- pot over high heat until it ripples. Add the onions and sage and allow to brown, 3 to 5 minutes, stirring occasionally to prevent burning.
4. Deglaze with the wine and cook until it is reduced by half, 3 to 5 minutes.
5. Add the stock and bring to a boil. Add the roasted vegetables. Reduce the heat and simmer for 5 minutes, stirring occasionally.
6. Add the rosemary to the stew, remove the pot from the heat, and serve.
Cinnamon-Spiced Baked Pears
From Easy. Whole. Vegan. by Melissa King
Prep and cook time: 30 minutes
These baked pears are simply amazing. Pears release so much sugar when baked that you'll think you're eating candy. The cinnamon and nutmeg add a bit of spice. As an added benefit, pears are actually higher in fiber content than their apple cousins, so this isn't a total loss in terms of health. I recommend leaving the skin on the pears, as it helps hold the pears together under the heat of baking. If you don't have or don't like pecans, walnuts or almonds are also great to use.
Makes 8 pear halves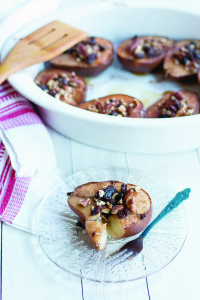 4 Bosc, Anjou, or Bartlett pears
1⁄2 cup (60 g) pecan pieces (see Variations)
1⁄4 cup (40 g) raisins
2 to 3 tablespoons maple syrup
1 teaspoon ground cinnamon
Pinch of ground nutmeg
1. Preheat the oven to 350°F.
2. Cut the pears in half lengthwise and then remove the cores (I used a melon baller to do this).
3. Slice a small sliver off the back of each pear half to create a flat surface so they can sit in a baking dish without sliding around.
4. Place all the pears face up in a baking dish. I use a 9 x 13-inch baking dish (the pears may not fit in anything smaller).
5. Fill the center of each pear with the pecan pieces and raisins, then drizzle 1 teaspoon of the maple syrup over each pear half. Sprinkle with cinnamon and a pinch of nutmeg.
6. Bake the pears for about 25 minutes, until the sugar begins to caramelize.
7. Serve while still warm. Keep any leftovers up to a week in the fridge.
Variations
• These would be great topped with whipped cream  or caramel sauce.
• If you need a nut-free option, you can use gluten-free rolled oats instead of pecans.

***
Recipes from But My Family Would Never Eat Vegan!: 125 Recipes to Win Everyone Over © Kristy Turner, 2016; Easy. Whole. Vegan. 100 Flavor-Packed, No-Stress Recipes for Busy Families © Melissa King, 2016; Vedge: 100 Plates Large and Small That Redefine Vegetable Cooking © Rich Landau and Kate Jacoby, 2013. All reprinted by permission of the publisher, The Experiment. Available wherever books are sold. theexperimentpublishing.com