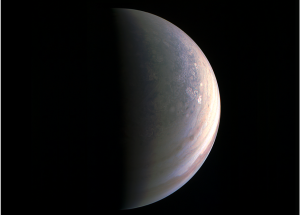 August 5th, 2011: NASA launches Juno, a space probe, with the intent of understanding Jupiter. Fast forward five years to July 4th, 2016: Juno officially enters Jupiter's orbit. What does this mean? Juno can officially explore Jupiter and aid NASA in discovering the origins and the evolution of Jupiter. Juno's mission includes making 36 flybys around the planet and capturing some amazing photos.
In light (Get it? Because Jupiter is known for its recurring lightning? No?) of this momentous feat and exciting possibilities, we here at The Experiment have gathered a collection of books that will guide you—as safely as NASA has guided Juno—into your voyage to space. (Although, it won't be as expensive; in total, NASA invested $1.1 billion dollars into Juno.)
Nothing
By Jeremy Webb and New Scientist
What does that mean—nothing? What is nothingness and does it really exist? New Scientist and Jeremy Webb examine and learn from a whole new side of science from the void to dark energy to hypnosis to the big bang. An accessible, fun, and enlightening journey for any science lover.
The Aliens Are Coming! (Arriving November 1!)
by Ben Miller
"Whether it's an objective look at UFO encounters, detailing the challenges of contacting aliens or explaining how life on Earth can inform our search, his snappy, conversational style will keep you turning the pages."—Discover
This isn't your normal fallacy-ridden book offering arguments for extra-terrestrial conspiracy theories. This is a science driven, well researched breech into the idea that we are not alone. With plenty of alien-themed entertainment heading our way, including the upcoming film Arrival (in theaters Nov. 11), comedian and quantum physicist Ben Miller provides readers with an engaging narrative on the latest science of extra-terrestrial life. The Aliens Are Coming! offers awareness of how life is spreading and when we might stumble upon it.
Transit of Venus
by Nick Lomb
Alright. We all know Jupiter is a big (Don't worry, I won't make a pun about how "gas giant" Jupiter is the largest planet in our solar system) deal. But what about Venus? In Long's guide to science, he discusses Venus's rare transits across the sun. With historical facts and a variety of pictures from NASA photographs to illustrations of previous transits, readers of this book will find a breadth of knowledge on planets' passage through time.
2017 Moon Calendar Card
by Kim Long
Keep up to date with every amazing moon in 2017 with this moon calendar. Blood moons, new moons, eclipses—they're all here and especially worthwhile for wanderers and wonderers alike!
The visual reference comes in a 40-copy counter display, a pack of 40, or a pack of 5.
###
Space. It's massive and never-ending. While Juno boldly goes where no man has gone before, you can learn everything we know about where man has gone, what we have discovered, and where we plan to go next. With this list of books exploring the world around us, readers can expect to learn just a little bit more to make the interstellar just a little bit less intimidating.