On May 25th in the year 1961, Saint Sophie's day, Sophie la girafe was born. Not your typical giraffe, Sophie never grew past ten inches tall. Despite her small stature, she rose quickly—in fame, that is. The brainchild of Monsieur Rampeau, an expert in transforming latex from the HEVEA tree using the rotational molding of rubber as a toy-making concept, Sophie was the first exotic wildlife figure of her kind.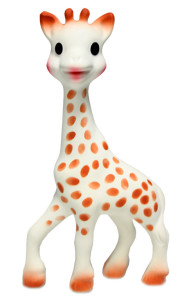 With her long neck and legs, Sophie was the perfect teether for babies, easy to grasp and bite. Children fell in love and parents quickly followed.
Since 1961, nothing about Sophie has changed—her construction is still a labor of love, requiring 14 steps done by hand in order to maintain her top quality. What has changed though, is her reach. Not only has Sophie become the #1 selling teether toy in the United States, but her face can be found on all types of baby products!
Sophie is the (unofficial) mascot of babies everywhere, which is why we happen to think she's the ideal companion for helping parents and little ones alike remember all of the perfect moments from pregnancy through early school years.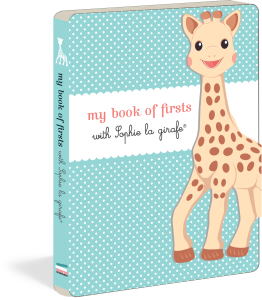 If Sophie is the unofficial mascot of babies, she is most certainly the mascot of The Experiment team (our office has a life-sized cutout and all!), and we are thrilled to release the newest in the Sophie series. My Book of Firsts with Sophie la girafe is a journal perfect for recording all of your baby's firsts—even if you missed the photo op! Firsts like first night in the crib, first time with a babysitter, first trip to the park, and more can too easily fly by in the haze of feedings and diaper changes, but you and your baby will love looking back and cherishing all of those memories years later. This adorable keepsake journal with a magnetic clasp in the shape of Sophie herself chronicles all those silly, serious, and surprising firsts from birth to early school years.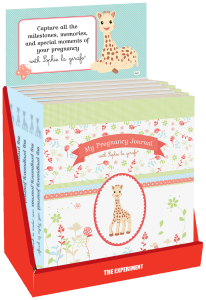 My Book of Firsts with Sophie la girafe joins the ever-popular My Pregnancy Journal with Sophie la girafe and My Baby Album with Sophie la girafe. My Pregnancy Journal is the must-have journal for all nine months of pregnancy. The journal has a place for every milestone and special features including space for photos, an astrology wheel and Chinese horoscope chart, space to brainstorm baby names, places for ultrasounds, baby shower invitations, and other mementos. Plus, the album is incredibly functional with to-do lists, tips for morning sickness, baby-supply checklists, and more.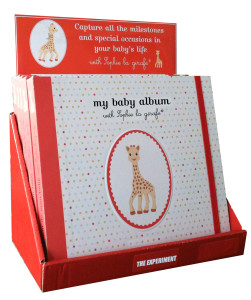 My Baby Album continues the series by taking over where My Pregnancy Journal left off—with the birth of your baby! With everything you'd want and expect from a baby album—birth announcements, firsts, favorites, family trees—plus so much more like an envelope for first lock of hair, pages to create your own theme, and fun, modern illustrations, My Baby Album is a must-have for new parents.
Even though we can't get enough of these three books—there's no such thing as too much Sophie! Which is why we are pleased to announce the newest addition to the Sophie series—Baby's First Months with Sophie la girafe, which will be coming out Spring 2016. Whereas the other three journals are the perfect keepsakes from a time that flies by in a haze, Baby's First Months is the perfect companion to help you stay organized during the haze.
It's a journal to help parents track feedings, diaper changes, and sleep with easy-to-use charts and notations. The journal spans baby's first six months, plus includes plenty of space for all the important phone numbers, immunizations, a growth chart, and more essentials.
Even though Sophie may be the oldest member of our team, we think she is the perfect companion for newborns, babies, toddlers—and their parents!